Jocelyn and Colin were the first recipients of the Hart Fairclough scholarship award last May. 2015. This scholarship was awarded for high achievements in academics and athletics. These two $500.00 scholarships were sponsored by Susan Fairclough and the Hall of Fame committee.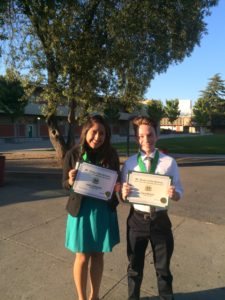 Alejandra Rosas-Gomez is an honor student in the Digital Safari Academy; she is ranked 16th in her class with a 4.04 GPA and will be attending CSF as an undeclared major.  She was captain of the Women's Soccer team.

Jesus Alberto Garcia is an Honor student in the MBTA Academy studying Sports Medicine;  He is a soccer player but more importantly he volunteers to work the all games and matches with the EMT/emergency people required before we can field a team.  Jesus was accepted at UC Davis and CSU Chico.  He has accepted the offer of Chico State majoring in Pre-medicine.  His career goal is to become an MD in General Medicine.